After about a week on the road now, we finally found some time to write a few lines. We started riding in Karlsruhe (Germany) on the 4th of april 2018. The weather was quite good and we made it all the way to Chiemsee in Bavaria. It had become very late already, so we ask a local farmer for permission to pitch our tent on his property. Unfortunately we didn't get any food that evening, because our damn MSR stove suddenly broke down. The new fuel pump (we never had any trouble with the old version) seems to be not really fuel resistant anymore and had dissolved the seals.
It rained like crazy for the whole night and the next morning, we kind of got pelt by dung for breakfast, because the farmer started manuring the area around us. We packed our stuff quickly and rode to the austrian border. The weather in Austria was a complete desaster and we almost drowned all the way to Wurzenpass, the border to Slovenia. However on the other side of the pass, we suddenly had sunshine and were surrounded by beautiful white mountain summits.
My former plan was to ride southeast towards Zagreb, but Miriam decided she really wants to ride to the "Zipfel", what means something like "salient" in a very childish expression. She thought that this is the place where all hell is let loose that time of the year and with "Zipfel" she actually meant the istrien peninsula.
At the croatian frontier we were a little bit surprised. Border control? What's going on – isn't Croatia part of the EU? Not long after in a supermarket, we also realised, that they are not paying in Euro – luckily there is electronic purse. Against Miriam's expectations neither campsites were opened nor really anything else. It still was absolute low season. Therefore we had to set up for the night a little bit hidden and less legal below a raised hide on a beautiful meadow. Although we were quite south already, it still became freezing cold after sunset.
Istria is well known for its beaches, but it was way to cold for that. So we decided the next morning to do some research in the internet first. We got told that Porec is good for that and started riding towards this place. Unfortunately the road led us to a road work in a little village, that first looked pretty much like a dead end. We already were about to ride a massive detour, when two older villagers told us to shred through the neighbours property and continue on the beach pedestrian precinct for a while. That's how easy it is in Croatia!
They also told us to try the "Tourist-Laguna" in Porec for internet access. We finally found internet there, but the place is a nightmare. It's a massive site with hotels, action "sports" offerings, clubs, and plenty of dutch, german, british and american teenagers with drunken bet shaved heads, that try to get plastered on a tiny beach with ear-battering club music. In fact – going for a swim was not really possible, because of the low water and weather temperature.
Miriam's brother suddenly wrote us a message, that we are invited to Zagreb at a friends place. A little bit dopey – because we almost had been there the previous day yet. At least Miriam had seen her "Zipfel" now, so we drove through the "Zipfel" (Istria) all the way to the east cost. When it became dark, Miriam booked a hotel for the very first time in her life. Unfortunately 25km to the direction we just came from – doesn't matter – all the way back…
Zagreb primarily looks like a common large city. But in the evening Dejan and Narcissa gave us a little old town tour and it is really pretty with many nice restaurants and bars.
The next day we rode to Plitvice Lakes National Park, spent a day at this beautiful place and finally continued to Split. On the way back to the coast it started raining heavily and accordingly became very cold again. At least we have seen the area now, where the Karl May indians must have been freezing many decades ago. Luckily we got some sunshine in the evening while sitting at Split's old town promenade and having a beer.
A short inevitable visit of Bosnia-Herzegovina (who the heck drew this border line?) led us to Dubrovnik and finally to Montenegro. At this border they seriously checked our passports, vehicle documents and insurance for the first time. We already had prebooked a room for the night in the next village Herceg Novi. Unfortunately we couldn't find the address, because we realised that our Garmin map only covers central Europe. Therefore we stopped at a petrol station to ask for the address and this guy just phoned the owner to tell him he should pick us up.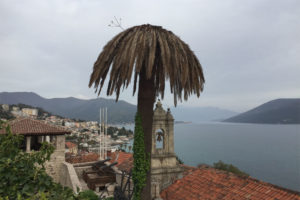 Herceg Novi is quite pretty, but reminds us a little bit of Italy's Garda Lake in the 90s. Although it was too cold to use the beach properly, it was full of garbage and nobody seemed to be bothered by that. This place was also still in full low season with most of the restaurants, shops and bars closed.
The next morning the weather was bad again. Indeed it wasn't really raining, but the sky was completely covered in thick clouds. What a pity – since the Bay of Kotor is obviously much nicer with some sunshine. We followed the coast line all the way to Kotor and turned inland onto a tiny little mountain pass afterwards. It was a beautiful winding road and when we finally reached the top, the sun came out and offered us a last fantastic overview before we left the bay. We continued riding through Lovcen National Park. The road became a dirt road ones in a while and we drove through some great little mountain villages. Shortly after Cetinje we turned onto an even smaller road to ride around Lake Skadar on the southern side.
A few bends later Andi and his wife waved to us out of a cosy wooden hut. Andi was sitting on a chair next to his wife surrounded by schnapps bottles, bacon, beer and bread – and it seemed like he is usually doing that the whole day. He was 78 years old (his wife 28 years younger) and constantly shoveled bacon, bread and beer into his mouth, while telling us, that he had too much food already. Everything was made by his wife and we definitely had to taste it. So we started with fig wine/honey schnapps, then walnut schnapps and lots of bacon, bread, gherkins and onions in between. Actually we don't even really like bacon that much, but we continued eating it to be polite – what finally made them to offer us even more. "Do you want whiskey? – much better than the one from England!" – and while we were telling them for about the fifth time, that we still had to ride our motorcycles, Andi already poured some more walnut schnapps into our glasses. "I realised that you liked that one so much!". We had a great time with them, but in the end we were happy to escape. Another hour and we probably couldn't have walked anymore.
The whole route south of Skadar Lake was fantastic. The road is super narrow and we hardly could ride faster than 30 km/h. We constantly catched sight of the lake and the snowy white mountains in the background. You'll find almost no cars there, but sometimes we used our horns before a bend, just in case there should be some opposing traffic nevertheless. Shortly before the frontier of Albania we could see the first small mosques.
At the border control we could already notice the upcoming chaos. They send us together with our motorcycles from the normal vehicle queue to the passenger queue. Our documents had been already taken by a custom officer and we were surrounded by a massive bunch of albanian workers. They had just finished their work in Montenegro and wanted to return home after work, but we completely blocked the transit with our bikes. After 10 minutes in the hectic crowd and dozens of fiddling passports, we retrieved our documents and were allowed to continue.
It was already late and we didn't ride very far to reach a campsite. However these few kilometers were enough to get a first impression of Albania. All the stories we got told about Albania before were actually true. Right after the border it didn't really feel like Europe anymore. Donkey coaches driving against the direction of traffic, goats, dogs and chickens everywhere on the streets or people riding bicycles/going for a walk on the middle of the road, seems to be quite normal. No need to have a look backwards while getting off your car – just tear open the door. In case you can't make a good use out of something anymore, just burn it beside the road. It actually felt like in the middle of Asia. How fancy-pancy is that! The people here are super friendly and we are already dying what will happen next in this cool country…